The Arts, Nature and Eco-Consciousness
Summer class JULY 30-31, 2022
(Saturday 9:30am – 4:00pm, Sunday 9:30am – 4:00pm)
This Arts, Nature Eco-Consciousness class
Offered every other year,
 Summer2022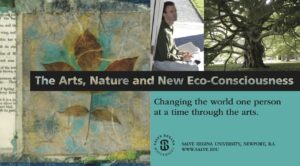 A special elective class offered by
the Expressive & Creative Arts Training program
at Salve Regina University
part of Holistic Graduate Programs,
Department of Counseling, Leadership and Expressive Arts
Salve Regina University
—
The Arts, Nature and Eco-Consciousness weekend workshop class,
is designed to awaken and nourish participants' creative spirit
and to present foundational material on deep ecology
and the role of the creative process
in renewing our sacred connection with the environment.
This experiential program includes:
• Innovative Approaches to Earth-based mindfulness
and contemplative practices
• Introduction to leading visionary perspectives
in the field of Reverential Ecology
• Self-exploration through creative image-making, visual arts, movement and sound.
• Techniques and skills to re-imagine our creative roots
and continue an ongoing expressive dialogue with the natural world
• Practice activating the transformative nature of eco-art experiences
that can be used in the fields of counseling, education, human services,
community organizations, and the arts
•Learn to reconnect with our natural environment
and reflect from a holistic view on your relationship to the "web of life."

**********
 Registering for this Special Elective class :
For Graduate CREDIT – HLC592  1-Credit Course
for Graduate Credit, current students
register via MySalve or Registrar's Office
as you would register for any other course.
For New  / Non-Matriculated Students? We also welcome you!
Contact: [email protected] to get started
—
For Intro Videos for the Class: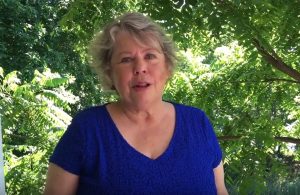 For more information about the Expressive & Creative Arts Program offerings, including:
Full Graduate Certificate Program in Expressive Arts
Watch: Videos About the Expressive & Creative Arts program
—
Any questions, please contact the Program Coordinator:
Christopher Carbone
Program Coordinator, Expressive and Creative Arts Graduate Programs
Faculty, Expressive Arts and Holistic Graduate Programs
Department of Counseling, Leadership and Expressive Arts
Salve Regina University
Newport, RI 02840
401-341-3122 – Office
[email protected]